Paddle choice is a very personal thing-the best thing to do is get to an Armada and try out other peoples paddles. Please note that I personally have a number of paddles I am willing to let people try out, and am more than happy to check out paddlers for manufacturers. That said, any review posted here is based on what I've heard from others and experienced myself-only reputable, solid paddles will be listed here (as with other gear and links within CBoats). So, in short, I'd be delighted if anyone would like to send me a free paddle, but it does not guarantee you'll be mentioned here:) (for the record to date I have received 1 "free" paddle to let others demo-and it was AFTER I posted that the paddles were of good quality (unfortunately said manufacturer no longer makes paddles (Climax)).

Below are some general guidelines.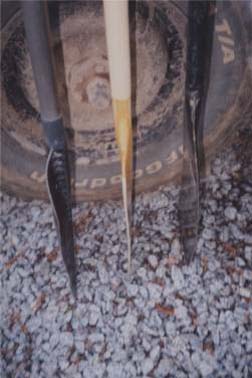 Blade shape
There are three main types of blade shape:


Straight
Most common-flat blade. Nice paddles by Werner, Mitchell, Echo paddles, Galasport, Backlund, and others


Spoon
Common in slalom racing, preferred by many. Slight curvature of the blade allows greater "catch" of the water.


Other
Examples such as Watersticks futuristic blade. VERY catchy. Some live by them, some can't stand them.


Shaft
Shaft length is best determined by your torso height and the type of paddling you plan on doing (Slalom boaters prefer longer paddles than rodeo boaters, for instance). In general the distance from the top of your shoulder to the waterline (or floor, when kneeling or sitting on an object roughly the height of your pedestal) is your approximate shaft length. Add blade length onto that and you've got total paddle length.

Shaft shape is very personal. Bent shafts have recently entered the market and some prefer them, sighting reduced wrist fatigue and easier cross-bow strokes. Most are sticking with the traditional straight shaft.


Paddle Construction
Wood shafted paddles tend to be more forgiving than composite paddles, and therefore easier on the joints. Composite paddles may be more durable, and in some cases lighter. Combinations are also available (wood blade / composite shaft or composite blade / wood shaft) from companies like Mitchell Paddles.


Paddle Companies
Paddle Companies listed below are those with decent reputations in the Cboating community that have come to the attention of Cboats.net. Many other paddle manufacturers are out there, some of better quality and some of lower quality.


Composite Paddles
Echo (Andy Convery)
Werner
Waterstick
Mitchell
Harmony (Perception)
Galasport
Wood Paddles
Backlund (-see images and contact info below)
Clinch River (considered to be great creeking paddles, and a great paddle overall (especially by CraigS:) ) Bailey (Clinch River) is reachable only at 865-986-9387.
Echo (see images of these gorgeous paddles below!)
JimiStix (Jim Snyder)
Mitchell (used by MANY a slalom racer. Excellent service reputation)

PAC and Keith Backlund have been generous enough to share some images of paddle production. Backlund Paddles do not have a web site (hence no link on the front page) but can be reached evenings at 724-329-0793. E-mail (hopefully working now): backlundpaddles@juno.com - Please let him know you heard about him via CBoats:).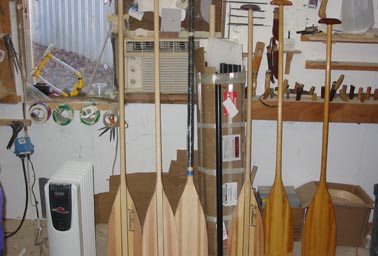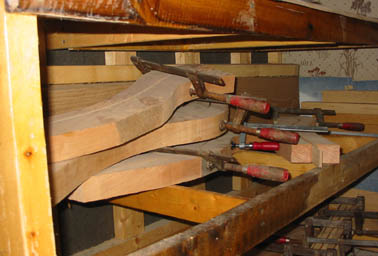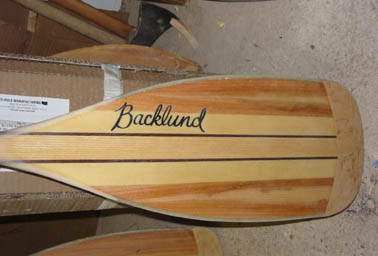 Jim Pruit has shared these imagines of his great looking JimiStix, and a bit of commentary:

The darker blade is the older paddle, with a custom grip - I drew it up for him and he made it. The stripped blade has one of his two standard grips on it. Both are expedition layups - full dynell sock on the shaft, double glassed blades. I wanted them to be extra tough, knowing my history....
Jim apprententiced under Keith Backlund in 1975 and went out on his own. He will not make a spoon/curved blade face as he does not believe in them for various reasons (read his info on his web site. His blades are actually quite powerful, just not on the catch phase. He custom makes each paddle for the user. Will even carve you a custom grip if you desire (mine is). The flex is to your taste you want stiff or soft he will do it. I can attest after 15 months with my first paddle they are not only works of art but very tough. While I only paddle class III/IV stuff, I love small creeks and as you know they can be tough on a stick. (I still push off of rocks despite having a woody). Having rolled off the bottom of shallow runs I know they can take it.
I have broken lots of paddles and worn out Bandits and Vikings in one season so this baby is tough.
Finally, they are very well balanced. The blades are designed to be light giving them a great swing weight.
2007 Paddles by Echo: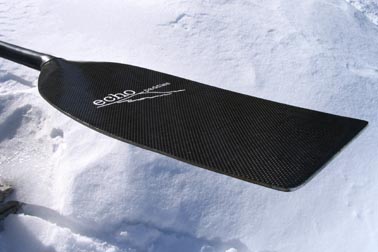 Pursuit paddle in full Carbon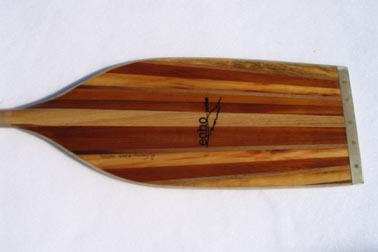 Quest

Reaction with Carbon shaft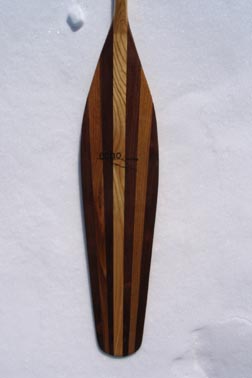 Reaction with Carbon shaft, and one of Andy's gorgeous flatwater paddles, the Reflection